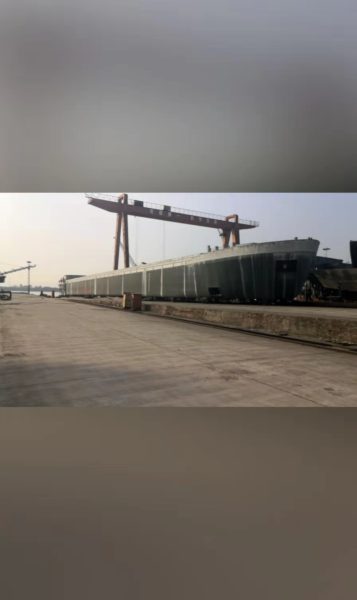 if any serious firm named interests on newly  completed   Holland  Type container barges
DUTCH  designed  /  supervisions
1. they have been  started  to  build in 2012 in quality China ship yard .
2. dimension:L 110 x B 11.45 x D 3.65 in meters
3.capacity: 3500 m3, could hold 96 teu container
4.draft :3.35m;
5.double hull/double bottom;
6.with no hatch cover .one big open hatch
hull construction have all been finished as per original contract. 
Dutch  standard  accommodation space and engine room space been built in 
good conditions  and the ships are kept in fairly good condition 
BARGES  could be delivered in about 15 days after MOA signed .
pls to hear serious firm   DIRECT  named interests.
LAST INFORMATION per 08. of April 2021:
3  X  BRAND  NEW  BARGES  EX  YARD  CHINA
=======================================
THESE  BARGES  WERE  A  SERIES  OF  NEWBUILDING  ORDERS  PLACED
BY  THE  DUTCH  BUYERS  WITH  THE  CHINESE  BUILDERS  IN  2012   WITH
THEIR  PLANNINGS /  DESIGNS  AND  STRICT  SUPERVISIONS  DURING
CONSTRUCTION,  CLASSED  WTH  B V
1//  HULL  –  DOUBLE /  DOUBLE   SIDES /  BOTTOMS
2//  E  U  STANDARDS  ACCOMMODATION  "APARTMENTS"
3//  AMPLE  SPACES  IN  ENGINE  ROOM
DUE  TO  FINANCIAL  ISSUES  WITH  THE  DUTCH  BUYERS  WHO  WERE
UNABLE  TO  TAKE  OVER  THESE  BARGES  THE CHINESE  BUILDERS
HAVE  NOW  RE-POSSESSED  THESE  BARGES  WITH  THE  LEGAL  RIGHTS
TO  SELL /  DISPOSE  THEM
SELLERS(BUILDERS)  ARE  NOW  ASKING  USD  1.1  MILLION/EACH  FOR  A
SINGLE  SALE  BASIS  FOB  SHANGHAI  PORT  CHINA
BELIEVE  BARGAINABLE  IF  BUYERS  ARE  GOING  FOR  TWO  OR  THREE
UNITS  EN  BLOC
ATTACHED  PHOTOS  WERE  TAKEN  ON  06/APRIL/2021
PLEASE  INSTRUCT  IF  YOU  ARE  OF  FURTHER  INTERESTS
KIND  REGARDS
CAPTAIN  "S    T" LIM