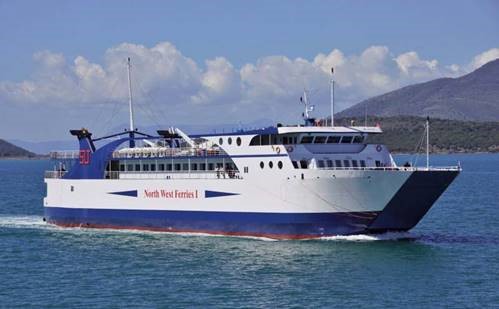 DAY PASSENGER/VEHICLE CLOSED TYPE FERRY FOR SALE 
"RINA" CLASSED (HSS0638)
Built 1999/rebuilt 2004, 
RINA class.  
DWT 901mt, 
81.50m x 14.22m x 2.9m, 
791m² garage space  with height of 4.55m.
 +++++++
117 cars. 
+++++++
Cummins 2 x 2230hp plus Cummins gensets.  
13 knots service speed. 
With present certificates 728/400 passengers summer/winter.  
Crew cabins for 17 and 1 passenger cabin. 
Vessel has sprinkler,  drencher,  CO2 & fire detector systems, fire doors and 
insulation as per regulations. 
INSPECTABLE IN MED-   
AN EXCELLENT "RINA" CLASSED VESSEL!!!  
Reasonable priced
lim