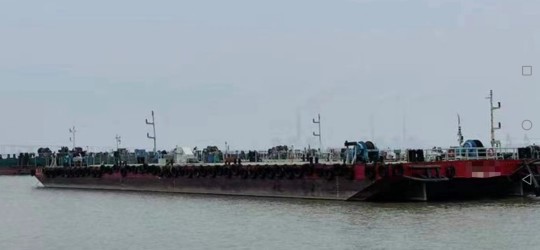 We can develop for sale of the following Deck barge

Ref. No. : DB-12000-20 (TBN),
DECK BARGE
FLAG: CHINA.
CLASS: CCS *CSAD, PONTOON, R2, COASTAL TRADING
BUILT: 2020, CHINA 
L/B/D: 100.00 / 36.00 / 5.50 M
DWT/DESIGN DRAFT: 12,000 T / 2.00 M
STRUCTURAL DRAFT: 4 M
DECK LOADING: 10 T/M2
MOORING SYSTEM: 4 POINTS INSTALLED
LOCATION: WORKING IN CHINA FOR WINDFARM PROJECT
DELIVERY: WITHIN 1 MONTH AFTER SIGNING CONTRACT
PRICE: INVITE BEST OFFER, AS BROKERS, CAN GUIDE IT UPON REQUEST.
= All details are given in good faith but w.o.g =
brilim