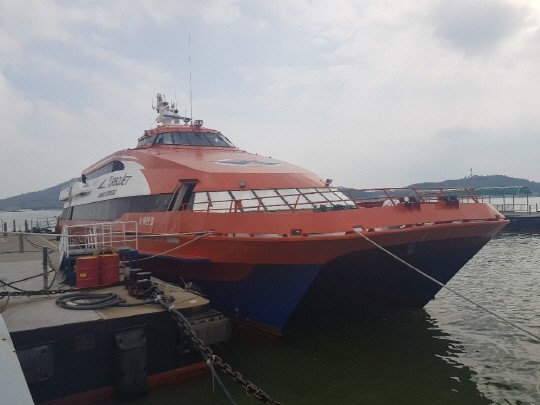 We can develop for sale of the following FAST FERRY (CATAMARAN TYPE)
vessel from Direct Owners.
The Owners reduced their sale price and can guide to named buyers. 
Ref. No. : FF-350-93 (M/V NAMHAE ANGEL), 
FAST FERRY (CATAMARAN TYPE)
FLAG: KOREA
CLASS: KR, PASSENGER SHIP, CATAMARAN (HSLC-SA3)
BUILT: DEC., 28, 1993, KVAERNER FJELLSTRAND (S) PTE LTD., SINGAPORE
L/B/D: 37.47 / 10.10 / 3.94 M
GRT/NRT/DWT: 319 T / 478 T / 49 T
DRAFT: 1.635 M
M/E: MTU 16V396 TE74L, 1,940 KW X 2 SETS (TOTAL 3,880 KW)
G/E: BENZ 6R099, 100 KVA X 2 SETS
PASSENGER CAPACITY: 356 P (PASSENGER 351 P, CREW 5 P)
DECK: 1 DK
PROPULSION: WATERJET KAMEWA-63 X 2 SETS
SPEED/CONS.: MAX 33 KNOTS AT 2,000 RPM, SERVICE 30 KNOTS AT 1850 RPM (MGO 700L/ H)
SPEED (DESIGN): MAX 35 KNOTS, SERVICE 32 KNOTS
HULL MATERIAL: ALLUMINUM ALLOY
NAVIGATION AREA: COASTAL TRADING
TANK CAPACITY: FO 12, FW 1.9 CBM
LOCATION: S. KOREA
DELIVERY: WITHIN 1 MONTH AFTER SIGNING CONTRACT
PRICE: INVITE BEST OFFER, BUT CAN GUIDE THE PRICE CLO SELY.
= All details are given in good faith but w.o.g =
brilim