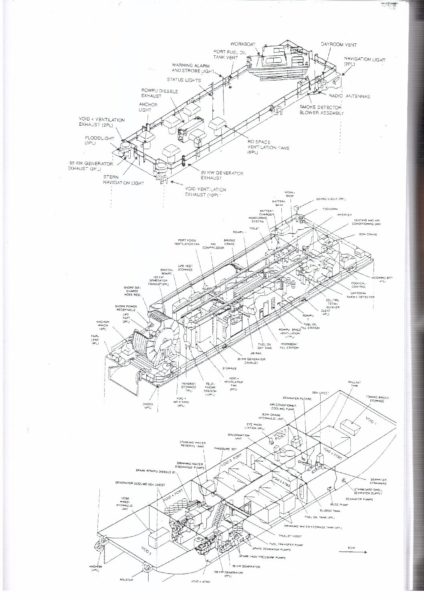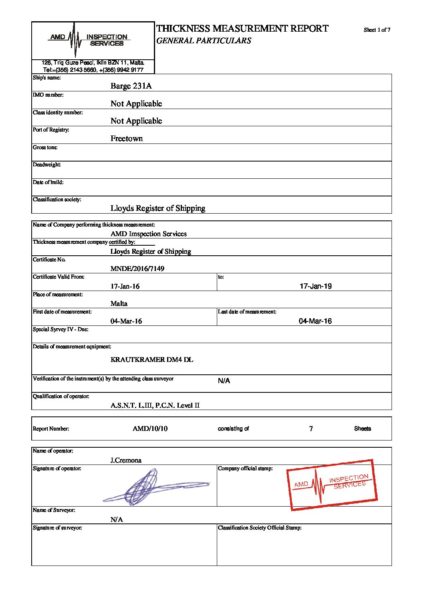 FLOATING BARGE MANUFACTURING FRESH WATER FOR SALE
We can develop for sale at Euro 725k ex Mediterranean Sea Port
FLOATING BARGE MANUFACTURING FRESH WATER.
SEA WATER POTABILIZATION PLANT
NEW ENGINES AND IN PERFECT CONDITION
Barge – floating freshwater manufacturer of the United States Navy – 1,353 ts / 24 hours
This barge can:
– Make fresh water from sea water
– Purify dirty water to fresh water
Two separate reverse osmosis water purification units (can work individually)
that filters and desalinates seawater with a chlorination system installed
Total fresh water capacity producing 1,353 tons per 24 hours (1,353,000 liters x 24 hours)
Freshwater costs when the barge operates
around USD 3, – per metric ton = $ 0.003 USD LITER
excluding the crew (approximately 3 crew required)
Made in the USA 1985 to US Navy standards.
Dimensions 36.57 x 10.05 x 3.2 m – draft 1.52 m
Not propelled
4-point anchor with winches and hydraulic anchors
Delivery hose 762 m
1 x Chlorine Manufacturing Plant
Aux Engines 2 x Caterpillar with 155 kW generators
2 x Caterpillar 250 hp pump motors
2 x New Caterpillar Replacement Engines
Workshop, crew accommodation
It is sold from OCCASION WORKING PERFECTLY
NEW PRICE 725,000 EUROS with new engines
Available at the Mediterranean Sea dock.
The barge was built for the US army and was kept as a standby Reverse Osmosis system in case the US Army  requested  her operation. The barge was never used and all equipment was preserved and labelled with date.  The Membranes that came with the unit are all still in plastic and stored.
This barge has the capability of producing approximately 300,000 gallons of drinking water as the ROWPU system has two identical units, ROWPU 1 and ROWPU 2, that can be run independently and can produce 150,000 gallons of potable water per 24 Hr.
These Units were designed to run process-feed water (sea salt water or brackish water from river or lake) into two products; brine water or dirty water that is dumped overboard and highly filtered non-salt water which can also be stored on board barge in 4 tanks that hold a total capacity of 15,000 gals. The Barge complies with WHO guidelines according to field quality of water and salinity and was built to reject 98% salinity. As discussed, the barge is berthed at our base in Valletta Grand Harbour and is available for inspection.
Water pump and generator engines are 2 Caterpillar 3306 and 2 Caterpillar 3406 type.
How many litres of lubricating oil should be put on the barge?
– We recommend approximately 1000 litres of lube oil.
What type of reference oil?
– 15W40
And how often do you have to change it?
– From our experience every 500 Hours an oil change should take place.
It is difficult to give the cost per hour because it depends on the price of fuel, lubes etc. inn your client's country. Also there will be a difference if it operates at say 25% capacity and not at 100% full power. What we can say is that the system has 2 Generators and 2 Main RO pumps which operate in parallel with the following fuel consumption:
The Ship Service Generators consume fuel at approx.. 12.7 gallons per Hr. at 100 percent of power at 1800 rpm and as low as 4.2 Gallons per Hr. at 25 percent of power at the same rpm
– The Caterpillar Main RO Pumps consume fuel at approx. 18 gallons per Hr.  at 325HP@ 2100 rpm and 12.7 Gallons per Hr. @ 250HP @1800 rpm continuous.
Please advise if any interest.     
-find a buyer first on what we have provided and then your client will ask all the correct revertant questions.
NEW PRICE 725,000 EUROS with new engines
details against named buyer!
roger