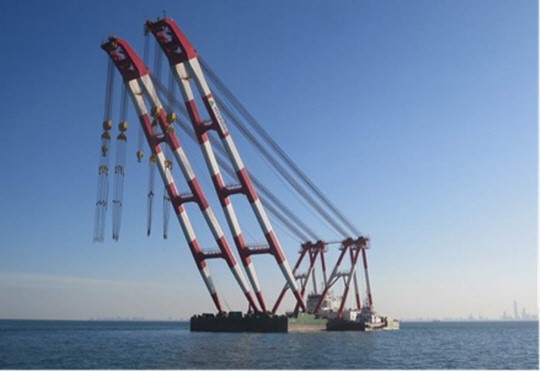 We can develop for sale of the following Floating Crane from Direct Owners
Owners reduced the sale price and we can guide it closely to named Buyers.
Ref. No. :FC-2200-14 (TBN),
FLOATING CRANE (NON SELF-PROPELLED)
FLAG: PANAMA
CLASS: KR, BARGE PONTOON / CRANE CHA
BUILT: 2014, GEO-SUNG TECH CO., LTD, KOREA
LOA/L/B/D: 90.00 / 86.43 / 45.00 / 7.00 M
GRT/NRT: 9,205 / 2,761 T
DRAFT (DESIGN, L/C 2,200TON): 5.00 M
DRAFT (SCANTLING): 6.00 M
FRAME SPACE: 2,500 MM
DECK CAMBER: 300 MM
CREW COMPLEMENT: 15 P
LIFTING CAPACITY: 2,200 T (2 JIB LUFFING TYPE)
LIFTING HEIGHT (FROM DECK): 87 M (BOOM ANGLE 65.0 DEG)
OUTREACH (FROM BOW): 29.3 M
MAIN HOOK: 550 T X 4 SETS
AUX. HOOK: 200 T X 2 SETS
LOCATION: MIDDLE EAST ASIA
DELIVERY: WITHIN 1 MONTH AFTER SIGNING CONTRACT
PRICE: INVITE BEST OFFER, AS BROKERS, CAN GUIDE IT UPON REQUEST.
brilim