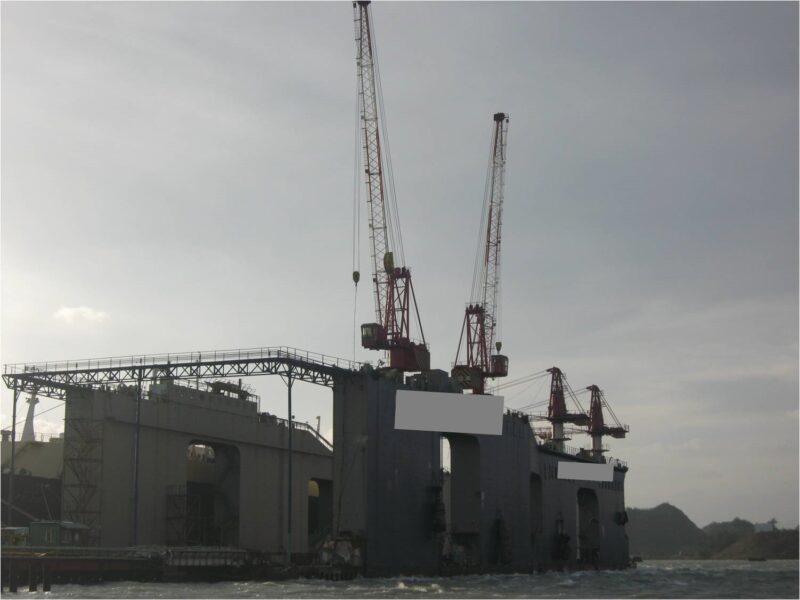 FLOATING DOCK (PONTOON TYPE) FOR SALE
CLASS: NIL
BUILT: 1986 & 1987 (TWO DOCKS WERE ASSEMBLED TO ONE ON 2008)
DWT: 13,000 T
LIFTING CAPACITY TONNAGE: 9,000 TLC
LOA: 123 M (OVERALL), 105 M (DESIGN)
BREADTH: 34 M (OUTER), 27 M (INNER)
DEPTH: 21.3M, 17.4M (INNER)
DRAFT: FULL DRAFT 15.0M, LIGHT DRAFT: 0.9M
DWT: 13,000T
DISPLACEMENT: 13,000T
HEIGHT OF B/TANK: 3.9M
CRANE: 12 TON X 35M X 2 SETS, 10 TON X 30 M X 2 SETS
MAIN GENERATOR: 150KVA X 2 SET
AUX. GENERATOR: 125KVA X 2 SET
PUMPS: 1,600M2/HR X 45KW X 2 SETS, 900M2/HR X 37KW X 2 SETS,
95M2/HR X 11KW X 2 SETS, 30M2/HR X 7.5KW X 1 SET
WINCH: 15TON X 10M/MIN X 4 SETS, 7.5TON X 12M/MIN X 2 SETS
FW PUMPS: 30L/MIN X 24M X 0.4KW X 1 SET, 21L/MIN X 12M X 0.2KW X 1 SET
BALLAST PUMP: 1600 CBM/H X 2 UNITS, 900CBM/H X 2 SETS
COMPRESSOR: 310L/MIN X 7.0KG/CM2 X 2.2KW, 300L/MIN X 7.0KG/CM2 X 2.2KW
** THE DOCK WAS ASSEMBLED BY TWO SMALL DOCKS ON 2008
LOCATION: MOKPO, KOREA
DELIVERY: WITHIN 1 ~ 2 MONTHS AFTER SIGNING CONTRACT
she is not registered on any classification/Flag and it's not essential in Korea for registration because a Floating Dock is not classified as "a SHIP" in Korea and thus, the owners did not register her on any Flag/Classification.
Please be noted that the dock is using for the owners shipyard for their own purpose and there are lack of documents/drawings.
If the buyers need to register her on any classification society, this dock is not suitable for your buyers.
I recommend the buyers DO not consider this deal to escape wasting time.
The Owners asking at USD3.05Mill as is where is in Mokpo, Korea delivery basis.
Other buyer offered at USD2.9Mill in recent time, but, the owners rejected it.
She can be inspected at Mokpo, Korea anytime.
If your buyers are interested in purchase her, I recommend the buyers to take a pre-purchase survey through a local independent surveyor in Korea and check more further information during ship inspection.
PRICE: INVITE BEST OFFER, AS BROKERS, TRY TO FIX AROUND USD3MILL LEVEL.
= ALL DETAILS ARE GIVEN IN GOOD FAITH BUT W.O.G =
brilim