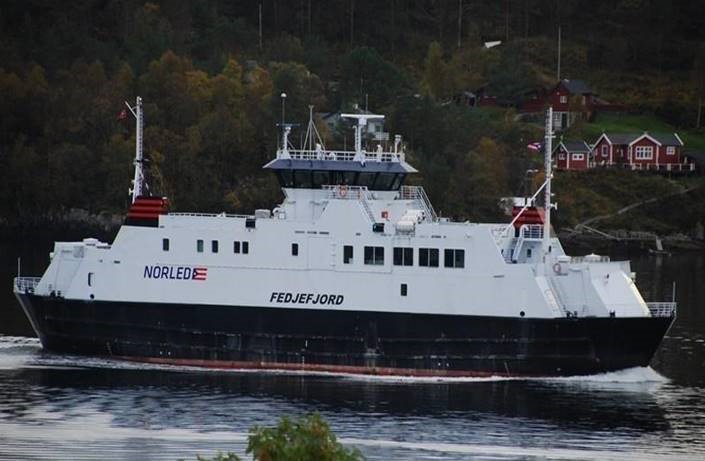 FOR SALE DOUBLE ENDED CAR / PASSENGER FERRY
From a good broker colleague, below candidate to show to buyers. Kindly check from buyers
FOR SALE DOUBLE ENDED CAR / PASSENGER FERRY MV "FEDJEFJORD".
This ferry is employed at the west coast of Norway serving the island FEDJE where the ferry
has to cross open sea area. Thus she is enclosed and suitable for rough seas.
DF864
MV "FEDJEFJORD"-
IMO 9236767.
BUILT ASTILLEROS ZAMAKONA S.A., BILBAO, SPAIN 2001.
LOA 63,55   BR 13,20  M  LOADED DR 3,65 METERS.
PASSENGERS 145.
42 CARS.
BUILT ACCORDING TO DNV-GL PRESENTLY WITH NMD TRADING AREA D.
AXLE LOAD CAR DECK 15 TONS.
TRAILERS A 18 METERS 4.
HEIGHT CAR DECK 5 METERS.
SPEED 13 KNOTS.
MAX CARGO ON DECK 200 TONS.
MAIN ENGINES 4 X CATERPILLAR TYPE 3412 EACH 534 KW, 1500 RPM.
2 EL ENGINES TYPE SIEMENS 1LA8-6PM70-Z EACH 825 KW.
GRT 2232 / NRT 1455.
LDT 1231.
DWT 367 TONS.
NORWEGIAN FLAG (NOR).
  FEDJEFJORD
Vessel Name: FEDJEFJORD
IMO Number: 9236767
Home port: BERGEN
Vessel Type: Passenger/Ro-Ro Ship (Vehicles)
Call sign: LLPA
MMSI: 258452000
Shipyard: ASTILLEROS ZAMAKONA PASAIA – PASAJES, SPAIN
Hull No.: 496
Year: 2001
Registered Owner: Norled AS
Ship Manager: Tide ASA
Overall Length: 63.5
Breadth: 13.2
Maximum depth: 5.0
Maximum draught: 3.9
Deadweight: 300
GRT: 2232
Cars: 35
Engine Maker: CATERPILLAR
Engine Type: Caterpillar
Engine Power, kW: 2060 kW
Engine RPM: 1500
Number Of Passengers: 130
consumption:
measurements of KW have been made at speeds of 10.4 and 11.9 knots respectively. Mode 2 at 10.4 and Mode 3 at 11.9 knots.
Consumption naturally varies a great deal with electricity and weather conditions.
19 modes in mode 3 at 11.9 knots speed gives an average consumption of 1047KW.
19 measurements in mode 2 with 10.4 knots speed gives an average consumption of 663 KW.
Average load / unload consumption is about 70KW.This will naturally be enough and vary widely
with weather conditions and whether breaks allow mooring.
If we were to measure consumption by tank measurement, we had to have a month's time with
measurements in order for it to be reasonably accurate. Still, 70% load in mode 3 at 11.9 knots should give approx. 60 liters   
per hour per engine. 180 liters total ± 10%. At 80% load in mode 2 at 10.4 knots about 70 liters per hour per engine.
A total of 140 liters per hour ± 10%.
VESSEL RECENTLY PASSED ANNUAL SURVEY. DELIVERY JANUARY 2020.
PRICEWISE TRY IN THE REGION OF EURO 4 MILLION.
INSPECTABLE IN BERGEN, NORWAY
arun k.