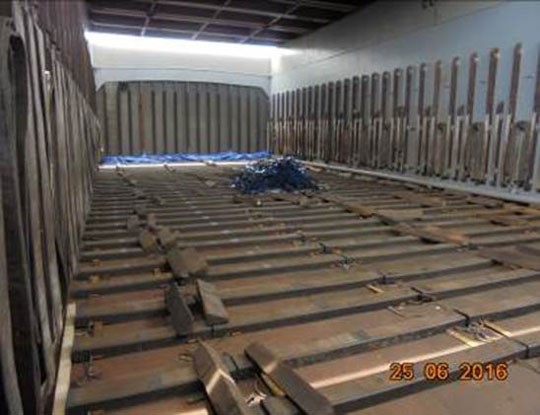 We can develop for sale of the following General Cargo Ship
Ref. No. : GC-3739-92 (M/V M/V PHIL-KOR. 3),
GENERAL CARGO SHIP (SINGLE DECKER)
FLAG: PHILIPPINES
CLASS: PHILIPPINE REGISTER SHIPPING, COASTAL TRADING (EX-KR GREAT COASTAL)
BUILT: FEB. 15, 1992, DAESUN SHIPBUILDING CO LTD., KOREA
LOA/B/D: 94.50 / 14.00 / 7.00 M
GRT/NRT: 2,487.00 / 815.00 T
DWT/DRAFT: 3,739 T / 5.69 M
LIGHT WEIGHT TONNAGE: 1,543 T
M/E: SSHI MAN B&W 6S 26MC 2,678 PS X 1 SET
A/E: YANMAR S165L-T X 300PS X 1200RPM X 2 SETS
ELECTRIC GENERATOR: TAIYO TWY033D 250KVA X 1 SET
FO CONSUMPTION: IFO180CST 5.5 T/D FOR M/E, DO 0.8 T/D FOR G/E
GRAIN/BALE: 2,987.90 / 2,987.90 CBM
HOLD: 2 HOLDS, BOX TYPE
HATCH SIZE: NO.1, 25.0 X 9.5, NO.2, 25.0 X 9.5 M
TANK TOP STRENGTH: 9.8 T
CRANE: ZIB CRANE 20 T X 1 SET (INSTALLED AFTER IMPORT TO PHILIPPINES)
SPEED:            12.5 KNOTS
CREW COMPLEMENT: 12 P
TANK CAPACITY: FO 222.6, FW 144.0, WB 1,202.3 CBM
MAIN LOADING CARGO TYPE: STEEL COIL & PLATE CARRIER
GMDSS: A1+A2+A3
** SHE HAD BEEN TRADED GREAT COASTAL AREA BEFORE IMPORT TO PHILIPPINES.
LOCATION: LAID UP AT PHILIPPINES AS OF JAN., 2019
DELIVERY: WITHIN 1 MONTH AFTER SIGNING CONTRACT
PRICE: INVITE BEST OFFER, AS BROKERS, CAN GUIDE THE OWNERS IDEA CLOSELY.
= All details are given in good faith but w.o.g =
bri