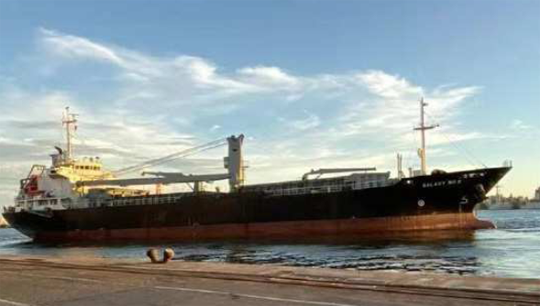 We can develop for sale of the following General Cargo Ship
Ref. No. :  GC-6583-01 (M/V GALAXY NO. 8)
GENERAL CARGO SHIP (SINGLE DECKER)
FLAG: SIERRA LEONE
CLASS: NEW UNITED MARINE SERVICES
BUILT: JUNE 28, 2001, IHI AMTEC CO LTD., AIOI, JAPAN
LOA/LBP/B/D: 98.00 / 88.0 / 17.5 / 11.6 M
GRT/NRT: 4,660 / 1,077 T
DWT/DRAFT: 6,583 T / 7.68 M (LIGHT WEIGHT 2,636 T)
M/E: HANSHIN LH46L 2,941 KW X 200 RPM X 1 SET
FO TYPE/CONSUMPTION: BUNKER A (IFO 80CST) 8 T/DAY
HATCH COVER: NO. 1, 19.45 X 13.00 M, NO. 2, 20.15, 13.00 M
HATCH COVER TYPE: FOLDING STEEL HATCH COVERS PER EACH HATCH
HOLD TYPE/CAPACITY: BOX SHAPE / 5,055 CBM => CONVERTED TO 8,160 CBM
CRANE: DECK CRANE 45T X 1 SET (NEWLY INSTALLED)
SPEED: TRIAL MAX 14.4 KNOTS
PROPELLER: CPP
BOW THRUSTER: FITTED
CREW COMPLEMENT: 13 P
OTHER TANK: FO 152, FW 57 CBM
NAVIGATION AREA: A1+A2
NEXT SS/DD SURVEY: SEPTEMBER 28, 2024 / MARCH 2022
** THE VESSEL WAS CONVERTED TO GENERAL CARGO SHIP FROM A WASTE CARRIER.
     EXCAVATOR WAS REMOVED AND SOME HOLDS WERE CONVERTED AND INSTALLED 
     A 45 TON CRANE NEWLY.
LOCATION: TRADING ASIA RANGE
DELIVERY: WITHIN 1 MONTH AFTER SIGNING CONTRACT AT NINGDE, CHINA
PRICE: INVITE BEST OFFER, BUT AS BROKERS, CAN GUIDE CLOSELY UPON REQUEST.
== All details are given in faith, but w.o.g. ==
limbri