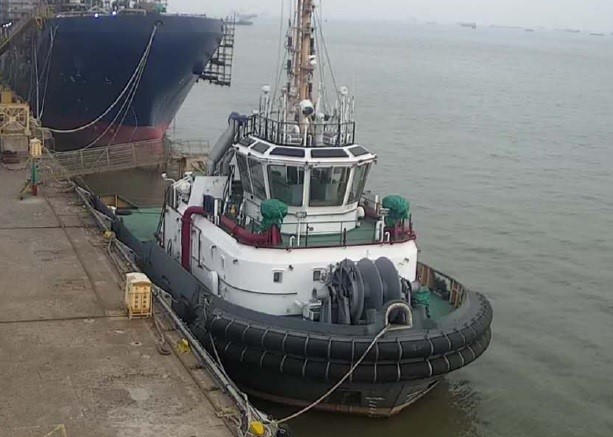 We have the below Newbuilding 32m 5000Bhp ASD tug ready for delivery Ex Yard, China

Immediate delivery upon confirmation.
Principal Particulars:
Built: 2020/China
Class: ABS, FiFi 1
Length 32.00m
Breadth: 11.50m 
Depth mld: 5.20m
Draft max: 5.52m
Bollard Pull: 65 tons
Economical Speed/Max Speed: 10Knts/12/Knts
Accommodation: total 12 pax
Capacities:
Fuel Oil: 200 cbm
Fresh Water: 50 cbm
Ballast Water: 50 cbm
Foam: 7.0 cbm
Dispersant: 2.8 cbm
Machinery: 
Main Engines: 2 x Niigata, 6L28HX , 1,838 Kw x 750 rpm (5,000Bhp Total)
Generator Sets: 3 x Cummins 120Kw
Azimuth Thrusters: 2 x Niigata ZP – 41
Deck Equipment:
Fwd Winch: 1 x Electro Hydraulic Anchor Windlass/Towing Winch
                    10 tons x 20m/min 
                    Brake holding : 150 T (1st layer) 
Aft Towing Winch: 1 x Electro Hydraulic Single Drum Towing Winch
                              20/6.5 tons x 10/30 m/min (1st layer) 
                              Brake holding : 180 T (1st layer) 
Deck Crane: 1 ton x 6m outreach
Stern Roller: 30 tons SWL
Fairlead: 45 tons SWL
Fire Fighting:
Fifi Pump: 1 X 2400cbm/hr
FiFi Monitor: 2 x 1200cbm/hr 
Water Curtain system
Others:
Oil dispersant system
Chemical dosing system
Full Specs and details available upon named request.
Please advise named interest.
lim