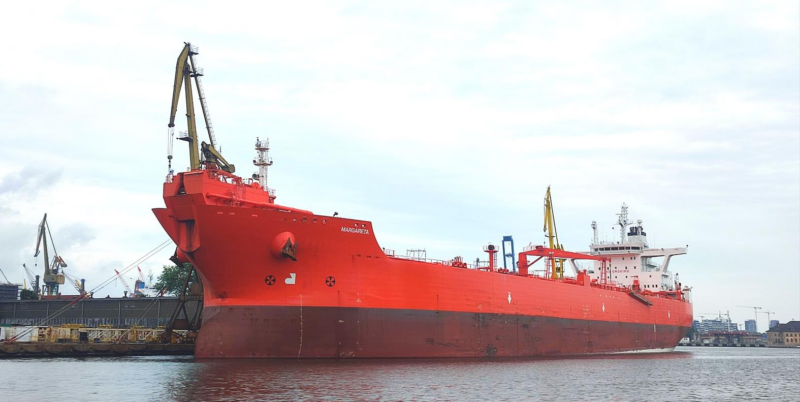 Oil Tanker / Shuttle Type / Double Hull for long period time charter ( 12 -24 months)
LR1 – 92968 DWT CRUDE OIL/DPP SHUTTLE TANKER VSSL OPEN IN T/C
++++ LR1 92968 DWT CRUDE OIL/DPP SHUTTLE TANKER VSSL OPEN IN T/C ++++
+++ CAN DO STS FROM ANY FLAG +++
+++ CAN TRADE ASWP – NO TRADING RESTRICTION +++
—————————————————————————————
Pls propose your firm & rated work order to the following LR1 CO/DPP Shuttle Tanker Vssl OPEN MID AUGUST in long period ( 12 -24 months) asf: 
——————-
M/T " MARGARETA"
——————–
Vessel: Oil Tanker Vssl / Shuttle Type / Double Hull
Deadweight: 92968 mts on abt 14,5m max draft 
Year: 2003, Samsung , South Korea
Flag: Liberia
Class: DNV
GT/NT: 54,865 / 26367
LOA: 233m
Breadth : 42m
Max Speed: 14knts wog
Liquid cap: 101,611 cbm @ 98% 
Cargo Pumps: 3 x 2500 cmph
M/E: 1 x DE / B&W 7S60MC , 14314 kW @ 105 RPM
A/E: 4x 8DK-28 DAIHATSU, 2800 kw ttl
pic just as reference / actual pic of the vssl taken in 2023
WOG & ADA
—————————————————————————
Delivery: Poland
Ideal as storage/STS vessel…. / Open in LONG PERIOD (min 12 months to 24 months).
The vssl will be open after completion of its DD (should be around Mid Aug).

She can do STS from any flag / Can trade anywhere, no problem.

She can load either crude oil a/o fuel as she is fitted w/heating coils… She has DPS.
———————————————————————————–
+++ NO LONG CHAIN PLS +++
We look forward to receiving your FIRM, NAMED & RATED work orders. 
Galo