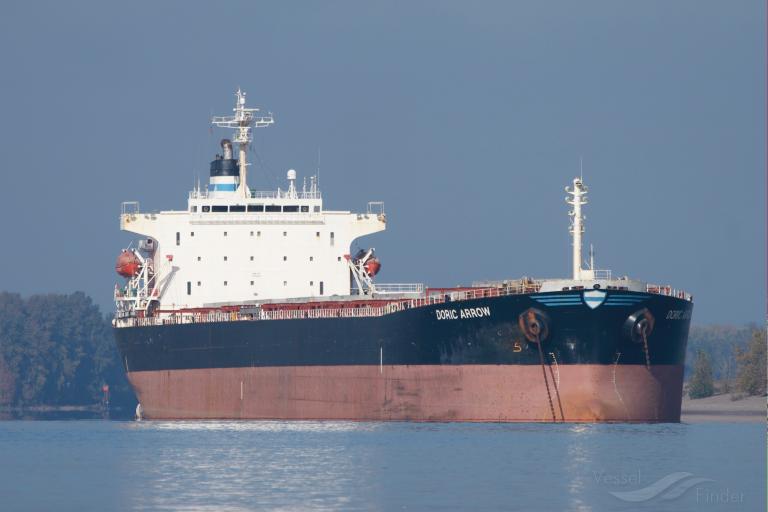 We can also develop the following 2001 Panamax Bulk Carrier for sale
MV + DORIC ARROW +
ABT 75,121 MTDW ON 13.841M DRAFT
BUILT 03/2001 HITACHI SHIPBUILDING – JAPAN
CLASS LR INCL UMS, M0 OR EQUIVALENT AUTOMATION
SS 28/02/2026 DD 24/08/2024
LOA 224.96M BEAM 32.24M
7 / 7 HOLDS / HATCHES  
ABT 89,423 CBM GRAIN ABT 86,440 CBM BALE
B&W 6S60MC 13,142  BHP
GENERATORS: 3 X 450 KW AC 450V 60HZ YANMAR
LDT ABT 10,717 MT
Last 10 cargoes: 
Grains, DD, corn, soya beans, coal, wheat, petcoke,
soya beans, coal, bauxite, coal.
Itinerary:
Loaded  bulk  grain  ETA Abu Dhabi 25th Nov
& Dammam 28th Nov to discharge thereafter Fujairah 5th Dec  for bunkers.
An IDWAL inspection report (80/100 rating) has been carried
out (10th Sep 2021 in Singapore) and is now available for
purchase for $1,000 to named interests.
Owners inviting best outright offers basis a TC free delivery
Fujairah – Japan range within Jan-Feb 2022.
As broker .. Try USD 12,5 MILL  as  is  where  is
LIM