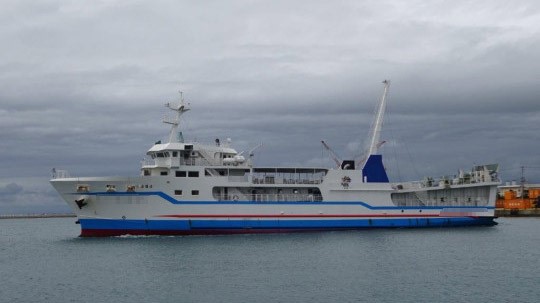 We can develop for sale of the following ROPAX
Ref. No. : RP-250-07 (M/V TBN), 
ROPAX
FLAG: JAPAN
CLASS: JG LIMITED COASTAL
BUILT: 2007, JAPAN
L/B/D: 60.00 / 11.60 / 6.89 M
</di v>GRT: 455 T
DWT/DRAFT: 197 T / 3.00 M
M/E: NIIGATA 2,500 PS X 750 RPM X 2 SETS
A/E: 367 KW X 1200 RPM X 2 SETS
SPEED: ABT 16 KNOTS
PASSENGER CAPACITY: 250 PAX
CAR LOADING CAPACITY: BUS & TRUCKS 11 UNITS OR CARS 23 UNITS
RAMP: STERN RAMP ONLY
BOW T HRUSTER/FIN STABILIZER: FITTED
CREW COMPLEMENT: 10 P
NEXT SS SURVEY: JUNE 2022
** THE OWNERS INVITE BEST OFFER BY MID OCTOBER, 2021
LOCATION: TRADING IN DOMESTIC AREA OF JAPAN
DELIVERY: WITHIN 1 MONTH AFTER SIGNING CONTRACT AT A SAFE PORT IN JAPAN
PRICE: INVITE BEST OFFER, AS BROKERS CAN GUIDE IT VERY CLOSELY.
= All details are given in good faith but w.o.g =.
brilim