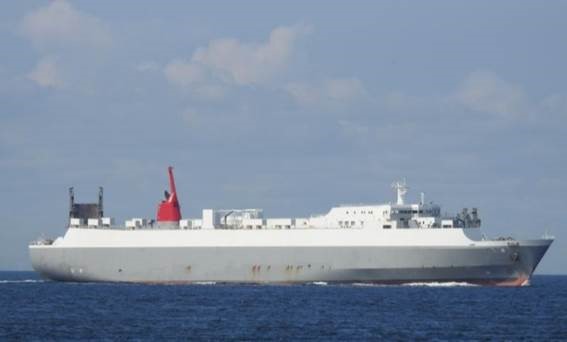 We can develop the sale of this roro, able to carry 103 cars + 122 units of trailer
M/V N O MARU
RoRo
built 1999 Iwaki
cars x 103+122units trailerL
lbd 167m x 24m x 7.2m8drfat)
Service speed 21.59knots
M/E Man b&w 8s50mc-c x 17,160 ps
4 deck = total 29,866cbm
Bow/stern quoter rampway.
1.     Deliver Condition:
Strictly "as where is without dry-docking. All of the Vessel's certificates, plans, manuals etc are also
"as they are" all written by Japanese without any translation.
2.     Delivery place :
Safely afloat at a safe and accessible berth at a safe port of Japan in the Sellers' option.
 3.     Delivery period
From 10th to 28th February, 2023 in the Sellers option.
 4.     Sellers' term :
Based on NIPPONSALE 1999 with amendment
Sellers will send the Sellers' term after obtaining the following items by the brokers,
aa)  Buyers' name and nationality
bb)  Buyers' activity list (especially with Japanese ship Owners)
 5.     Inspection :
Sellers do not open window for superficial inspection of the Vessel. Buyers waive their right of superficial inspection
and accept the report of the Pre-sale inspection carried out by the independent surveyor on 17th of December 2022.
 6.     Deadline of bidding for buying price:  Has passed yesterday, do not know if there would be any extension for later offers-….
7.     Important remarks
7-1  Restriction for usage and prohibited import
The vessel shall be strictly prohibited to engage domestic Roll-on roll-off business in Japan after this sale irrespective of resale or charter out to third parties.
 7-2  Documents and translation by the Sellers
All concerned documents shall be written only in Japanese such as Inventory List
Certificate of Ownership
No Encumbrance Certificate Good standing Certificate
Any other documents for this sale agreement
Therefore the Sellers shall not translate the documents into any other languages.
8.     The Sellers BOD approval
his sale is subject to the Sellers' Board of Directors (BOD) approval which shall be declared within 14 Japanese working days after MOA is signed by the Buyers.
(All dets given in good faith, WOG).
Further details for named / serious buyers.
Pleased to hear offer.
Britslim