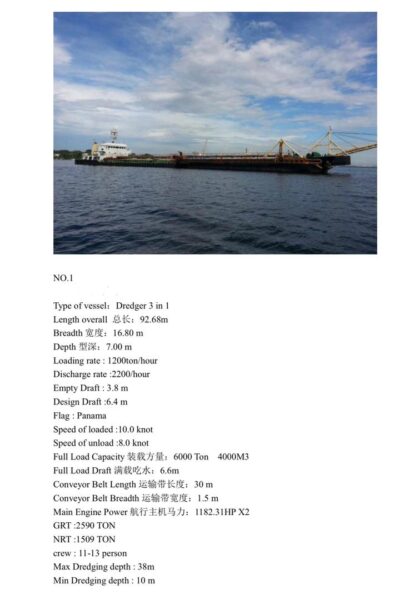 for sale /  for  long  term  charter Sand Pump Dredger
1. CR1 Sand Pump dredger built 2018 costs USD2.8Million (in Malaysia)
1. 2X4000CBM 3 in 1 2012 Built Price USD2.6M(in Singapore Straits)
2. New 4000CBM 3 in 1 USD6.5Million (in China)
3. One unit 7500M3 3 in 1 2012 Built POA, charter can discuss
4. DT1, DT2 and DT3 2 in 1 self- unloading barges Enbloc price
For three units is USD1.8 Million (in Malaysia).
++++++++++++++++
For Charter pls provide information as follows:-
1. Name and brief profile of charterer
2. Period of charter
3. Date of Laycan
4. Area of operation
5. Scope of Work
6. When can confirm the charter
7. Any budget of charter
8. Proposed terms of payment.
LIM