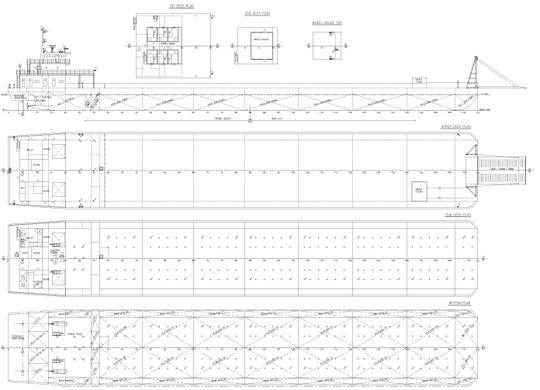 We can develop for sale of the below Self Propelled Deck Barge
Ref. No. : SP-3016-03 (M/V SEMA NO. 1)
SELF PROPELLED DECK BARGE
FLAG: KOREA
CLASS: KST
BUILT: AUG. 8, 2003, YICHANGBAL SHIPYARD, CHINA
LOA/LBP/B(MAX)/B(MLD)/D: 98.0 / 94.85 / 16.1 / 15.5 / 3.5 M
GRT: 1404 T
DWT/DRAFT: ABOUT 3,016 T / 2.65 M
M/E: WEICHAI DEUTZ(GERMANY) 441KW (650HP) X 2SETS
A/E: CUMMINS 50KW X 1,200RPM X 1 SET
CUMMINS 75KW X 500RPM X 1 SET
15KW X 1,200RPM X 1 SET
SPEED: 12 KNOTS
BUNKER CONSUMPTION: MDO 6T/DAY
RAMP: 10M X 6M (L X W)
CARGO SPACE: 67M X 15.5M
BALLASTING: YES
NAVIGATION AREA: COASTAL AREA
MAIN LOADING CARGO TYPE: SAND AND OTHER GENERAL CARGOES.
LAST/NEXT SS: AUG. 9, 2013 / AUG. 8, 2018 (NOT PASSED YET DUE TO PERIOD OF LAID UP SURVEY)
LOCATION: LAID UP AT S. KOREA
DELIVERY: WITHIN 1 MONTH AFTER SIGNING CONTRACT.
PRICE: INVITE BEST OFFER, BUT AS BROKERS, CAN GUIDE THE PRICE UPON REQUEST.
== All details are given in faith, but w.o.g. ==
 bri