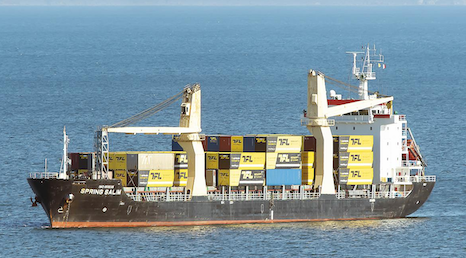 FOR  SALE Geared Tweendecker – Container Fitted f 630teu for sale
"YONG SHENG 98″   (ex SPRING SALIM") – HKG FLAG
================ 
ABT 9.106 TDW ON 7,20 MTRS DRAFT
 BLT 7/08 YICHANG SHIPYARD – YICHANG HB, CHR
 KR  SS/DD fresh passing end of June
 DIMS 122,20 / 116 X 19,8 X 10,7 MTRS'
 2 HO/2 HA
 TWEEN DECK
 PONTOON COVER
 BOX SHAPE
 ABT 13.350 GRAIN 13.350 BALE
 630TEU
 2 X 40T CRANE
 PIELSTICK 6PC2-6, 5234 BHP AT 520 RPM
Speed:
In ballast: about 10 knots with bunker about 8.5mt LSIFO (180cst) and 1.3mt LSMGO
In laden: about 9.5 knots with bunker about 9.0mt IFO (180cst) and 1.3mt LSMGO
Port idle 1.3mt LSMGO, port working 1.6mt LSMGO,
0.5mt LSMGO used for boiler winter season in port Vessel use LSMGO in main engine
 when maneuvering/navigation in narrow/allow waters, canals, channels, rivers
and entering/leaving ports.
(above speeds, bunker consumptions are about, given basis Beaufort scale force
4/Douglas sea state 3, without converse current)
The vessel now is passing SS/DD in Dalian shipyard
 Prompt Delivery can be workable.
Awaiting your news. Tks.
CAPTAIN  S  T  LIM