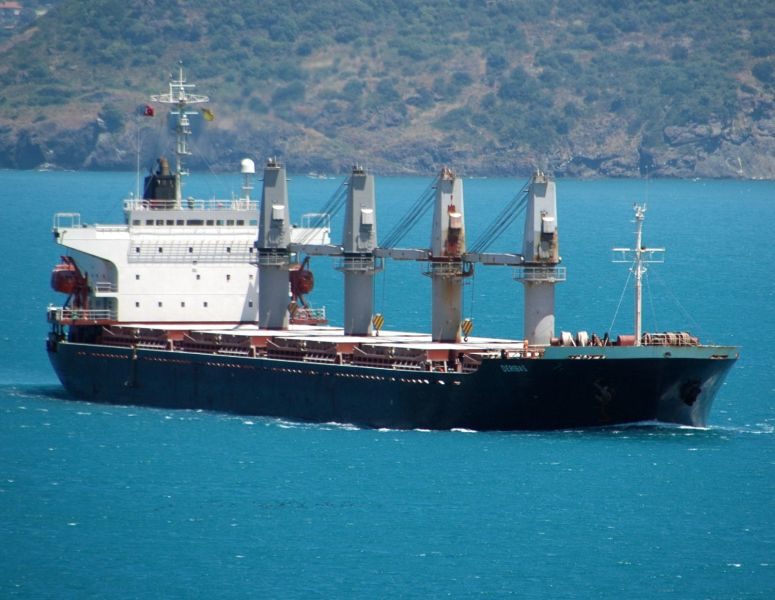 Handy Bulkers for sale
MV 'AVRA'
ABT 24,823 DWT ON 9.860M DRAFT
BUILT 2/1998 SAIKI HEAVY
CLASS NK S/S 01/2023 D/D 12/2020 (IMO DATE FOR BWTS IS 4/3/2022)
154.50M LOA/146.00M LBP X 26.00M BREADTH X 13.350M DEPTH
4 HO 4 HA ABT 30,978 CBM GRAIN
CR: 4X30T
MITSUBISHI 6UEC45LA 7200 BHP
AUX: 2 X 400 KW, 800 KW TOTAL.
4 STAR RIGHTSHIP
FULLY LOGS FITTED (INCL LASHING EQUIPMENT ONBOARD)
A60 FITTED / CO2 FITTED
MECHANICAL VENTILATION IN HOLDS 2,3
5,560 LDT
She is loading grain up River for 3 port disch Greece.
can work basis delivery Greece.
Best offer invited.
————————————-
MV "DERIBAS" 
PAN FLAG
ABT 28.665 TDW ON 9,75 MTRS DRAFT
BLT 3/1996 KANDA KAWAJIRI, JPN
NK SS 25/10/2020 DD 10/2020
DIMS 170,00 / 162 X 27,036 X 13,8 MTRS
5 HO/5 HA MCGRGR FOLDING HATCH COVERS
ABT 37.694 GRAIN 36.665 BALE
4 X 30T CRANES
MITSUBISHI 5UEC52LA, 8000 BHP AT 133 RPM
Water ballast management system 19 August 2022
(all details/info given in good faith but without guarantee)
Vessel presently Samsun, Turkey. 
Then she will load and can be inspectable at Nikolaev port, Ukraine.
We can guide you on price.
cajam