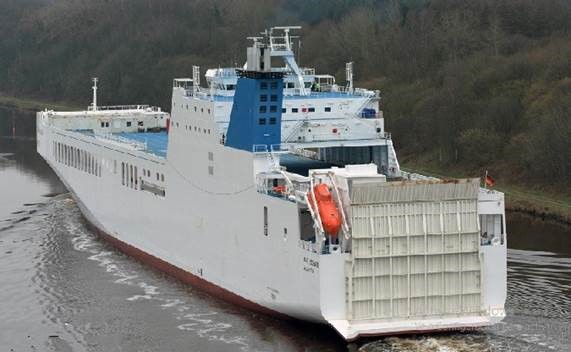 can develop for sale or try bareboat charter the LARGE following newbuilding roro vessel in germany
european flag blt 2023
mv T.Ocean
type roro 4100  Lane M.
11,900 dwat on 6.8m
blt germany 03/2023
dims 209.79/197.74 x 26m+
class dnv +1a1,
general dry cargo ship ro-ro ship,
e0, naut-aw, dg-p,
bıs
flag malta
32,770 gt
cargo capacity:
545 lanem in lower hold
1,049 lanem on main deck
1,186 lanem on upper deck
1,227 lanem on weather deck
4,007 lanem total
free heights: 5m in lower hold, 7.1m in main deck, 4.7m in upper deck,
4.7m access to weather deck
straight stern ramp 15+3m x 17m (l x w)
internal ramps throughout
279 trailers
80 reefer plugs, 40 on main deck + 40 on upper deck
12 drivers / 6 cabins
>m/e 2 x man 8l48/60cr 9,600 kw each, 500rpm
2 x cpp
bowthruster 2000 kw
2 flume tank stabilizers
20 kn on abt. 54.5 ts hfo
(all dets abt n wog)
she is presently  in Germany, doing some final works after first sea trial.
delivery is scheduled for mid March 2023.
the owners are there for a straight sale, as brokers try long term bareboat charter
for 1st class Charts.
pleased to hear if the above is of interest…?
Britlim