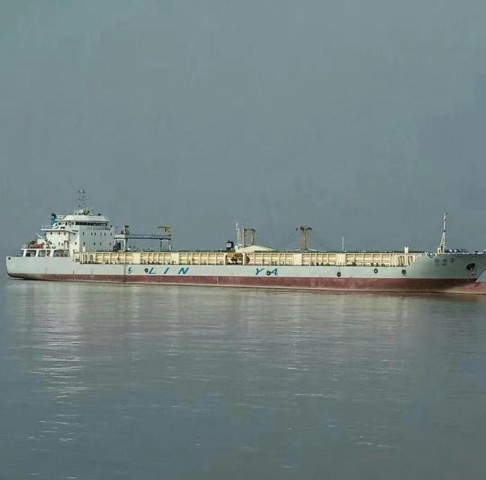 FOR SALE SELF PROPELLED BARGE (SAND CARRIER)
FLAG: MYANMAR
CLASS: CCS (WILL BE EXPIRED AS OF JUNE 7, 2021)
BUILT: JUNE 7, 2016, ZHEJIANG HONGSHENG SHIPBUILDING CO LTD., CHINA
LOA/LBP/B/D: 138.00 / 129.80 / 26.0 / 8.80 M
GRT/NRT: 10,643 / 3,192 T
DWT/DRAFT: 12,580 T / 6.20 M
M/E: NINGBO G8300ZC30B & G8300ZC31B 2,206 KW X 600 RPM X 2 SETS
FO CONSUMPTION: IFO 10.00 T/DAY, MDO 0.50 T/DAY
SPEED: 12 KNOTS
DISCHARGING SPEED: 2,500 T/HOUR
HATCH COVERS ARE OPENED AND CLOSED WITH A TRAILING GANTRY CRANE.
PROPELLER: FPP
LAST/NEXT SS SURVEY: JUNE 7, 2016 / JUNE 6, 2021
** SHE CAN CARRY SAND & AGGREGATES
** IF THE BUYERS WANT TO DELIVER HER WITH VALID CLASSIFICATION CERTIFICATE,
  EXTRA COST WILL BE OCCURRED BY THE BUYERS ACCOUNT.
LOCATION: MYANMAR
DELIVERY: WITHIN 1 MONTH AFTER SIGNING CONTRACT
PRICE: INVITE BEST OFFER, AS BROKERS, TRY TO TEST AROUND USD6.7MILL LEVEL.
= All details are given in good faith but w.o.g =
brilim