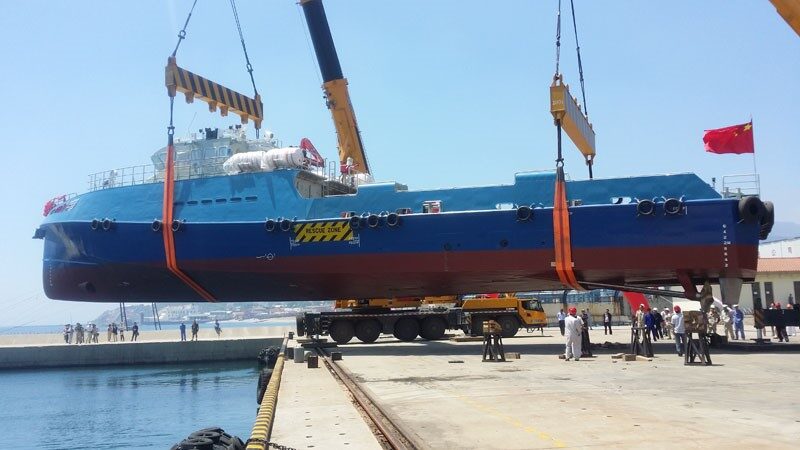 4×40M ALUMINIUM CREW/UTILITY NB BOATS FOR RESALE
We still can develop from direct Owners for four(4)units of NB for resale
==========================================================
VESSEL: 40M ALUMINIUM CREW/UTILITY BOAT  
CLASSIFICATION: ABS+A1 HSC CREWBOAT +AMS
SAFETY REGULATION: ABS AND FLAG STATE REQUIREMENTS
ALL WELDED ALUMINUM MONOHULL WITH
QUADRUPLE PROPELLERS/TWIN RUDDERS.
FORWARD FULLY AIR CON. ACCOMMODATION/PASSENGER SALOON. 
AND FLUSH,NO-OBSTRUCTED CARGO DECK
PASSENGER CAPACITY:100 AIRCRAFT TYPE ECONOMY CLASS SEAT
CREW:10 BUNKS IN 5 CABINS
MESS:SEATING FOR 10 CREW
LENGTH OVERALL:40.00M
BEAM:8.20M
MOULDED DEPTH:3.65M
MOULDED DRAFT:2.0M
SUMMER FREEBOARD:1.65M
CARGO DECK:115SQM (18.0M LENGTH×6.4 M WIDTH)
SAFE DECK LOADING:85 TONNNES
DECK STRENGTH:1.3TON/SQM
DECK CRANE REMARK:0.8MT@6M REACH
ADEQUATE CARGO RETAINERS & LASHING LUGS ON BOTH SIDES
FOR SECURING DECK CARGO
AFT DECK SUITABLE FOR HELICOPTER WINCHING
GRT:292
NRT:88
LIGHTSHIP:138.73TON
DEADWEIGHT(APPROX.):170 MT
NUMBER OF MAIN ENGINES:4
PROPULSION:QUADRUPLE SCREW
MAKE TYPE:CUMMINS KTA 38-M2
TOTAL BHP/KW:41350 HP
PROPELLERS:4 FIXED PITCH
BOW THRUSTER:1×90KW
MAKE/TYPE GENERATORS:2×91KW @ 1500 RPM
CUMMINS 6BT5.9-D(M) CSIC 1FC2 224-4SB43, 2×80EKW
415/220 VOLT AC, 50HZ, 3PH + 24 VOLT DC
MAX SPEED:24 KNOTS, SEA TRIAL VALUE
MAXIMUM FUEL:1006L/HR
LADEN SPEED:18 KNOTS @ 85% MCR FULLY LOADED 860 L/HR
==========================================================
ADA WOG
Location: China eastern.
Kentlim