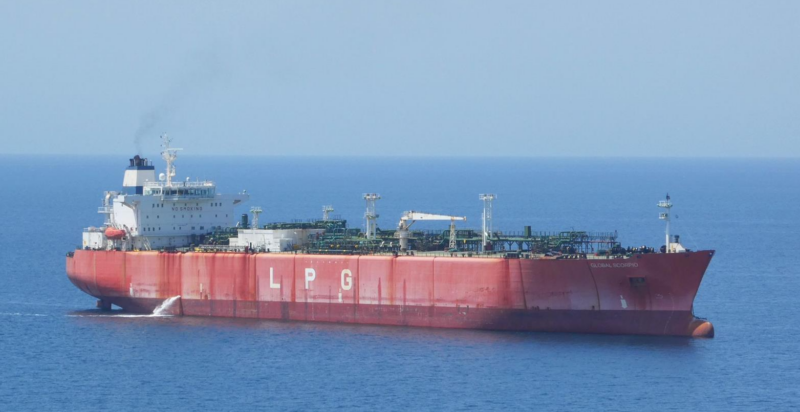 VLGC for sale
FROM SHANGHAI OWNERS
====================================================
FOR SALE – 2003 Korea-blt VLGC m/t "GLOBAL SCORPIO" (IMO9240421):-
====================================================

Pls find next the vessel condition for your reference:
1.Vessel is now on TC and trading in East Africa regularly.
2.The estimate delivery date range will be Aug to Sept 2023 before DD.
====================
M/T GLOBAL SCORPIO  
====================
(EX-Lpg Scorpio  Aw)
FLAG HONG KONG SAR, CHINA
DOUBLE BOTTOM
DWT 58,814 MTS ON 12,57M DRFT
BLT 7/2003 AT Hyundai Heavy Inds – Ulsan (KOREA, SOUTH)
CLASS: BV, SS 07/23 / DD 07/23
LOA 225,27M, BEAM 36,6M, DEPTH 20M
PUMPS 8×600
M/E MAN-B&W 6S60MC-C, BHP 18436 TOTAL
GENERATORS 3 X 1.200 KW
IGS, SBT
LDT 18709
HFO 380 cSt @ 50 deg.C fr main propulsion
HFO for A/E
pic just as reference 
(=ADA & WOG=)
==REMARKS FRM SELLERS==
The sellers will collect FIRM purchase interest from firm, named buyer (buyers entity and ultimate controlling company) whom please advise with detailed background (including but not limited to history, assets, business, fleet, financial status…)  – deadline noon Shanghai time on 21st Apr 2023.
The sellers will conduct KYC after receiving all registers after 21st Apr and all potential buyers firm interested will receive vessel's purchase inspection report by paying about USD 1500 directly to independent third party inspection institute.  
Please take note that for safety and time reason, sellers do not suggest potential buyers to carry out inspection by themselves.
After receiving inspection reports by potential buyers, more firm schedule to collect offers to be revert.
+++++++++ 
Holding here Vessel's Q88 and Form C
CAPTAIN  S T  LIM